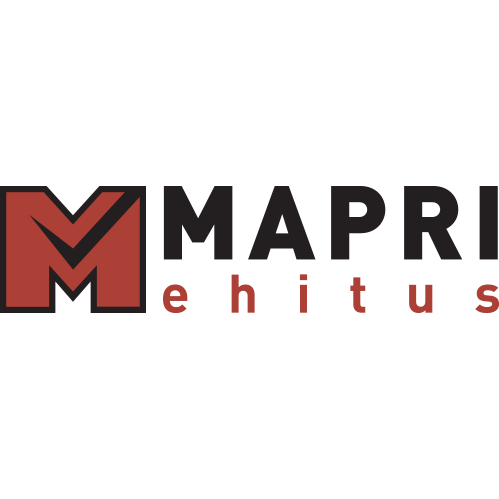 Mapri Ehitus
Tehtud tööd
Allpool on toodud Mapri Ehituse viimaste aastate silmapaistvamad tööd
Hetkel töös olevatest projektidest üks põnevaimad oma keerukate tehnosüsteemide poolest on Selveri Kulinaaria tootmishoone ehitus (uus+renoveeritav osa kokku 8 000 m2). Kindlasti tasuvad märkimist veel ka bürookompleks Tallinnas Kalasadamas, korterelamute arendus Tartus Eesti Rahva Muusemi vahetus läheduses ning kaks äri- ja eluhoonet...
Enter
Tööpakkumised
Täpsem info olemasolevate positsioonide kohta lisandub peagi, kuid kui soovid juba kannatamatult meie meeskonnaga ühineda, siis kirjuta Mapri Ehituse personalijuht Kristiinale (kristiina@mapri.eu) ning anna teada, mida Sa oskad, mida tahaksid juurde õppida ja lisa juurde ka oma CV. Tudengid töötavad meil põhiliselt objektijuhi-abi ning joonestamise positsioonidel.
Enter
Kes me oleme

Mapri Ehitus on üks suurimaid ja kiiremini arenevaid ehitusettevõtteid Eestis, meil on noor tiim ja startup-mentaliteet - oleme valmis muutma protsesse, katsetama uusi lahendusi ning raputama ka muidu konservatiivse ehitussektori töökultuuri. Väärtustame oma töötajaid ning peame lugu sellest, et kõigil meist oleks hommikul hea meel tööle tulla, võimalused enesearenguks ning voli oma häid mõtteid ellu viia.
Meil töötab üle 100 inimese ja 2019. aastal ehitasime 70 miljoni euro eest. Vaata Mapri Ehituse tegevjuhi Tarmo Roosi arvamust 2019. aasta kohta ehituses ning ennustust 2020. aastaks siit.
Conference Day 14th Oct
BuildIT 2020 is happening for the 7th time and is a yearly international event which involves conference and competition days.
The topic for conference day is "Future of the city'' focusing on topics like transportation, construction and sustainability of the environment.
Lecturers are successful entrepreneurs, scientists, engineers and public figures sharing their experience, knowledge and innovative future...
Enter
Competition Day 15th Oct
Competitions will be held for people to test their knowledge and participate in various workshops and competitions.
The competitions are open for everyone! Each competition requires different skills and a whole new mindset. There are no age restrictions.
Registration for participation in the competitions is MANDATORY! The rules and registration will be open soon. For more information follow our Facebook page
Enter
Backers
Our biggest asset is our backers. Without them BuildIT 2020 could not happen and you wouldn't be able to participate. We would like to thank everyone who is participating or helping in any other way. Thank you - our biggest supporter - that you're with us again this year. Some of our backers have interesting stories and offerings so go check them out.
Enter